Amplify your Intuition
Luminous Journey Moonstone Bracelet
"Simply stunning."
-Melissa G. - Portland, OR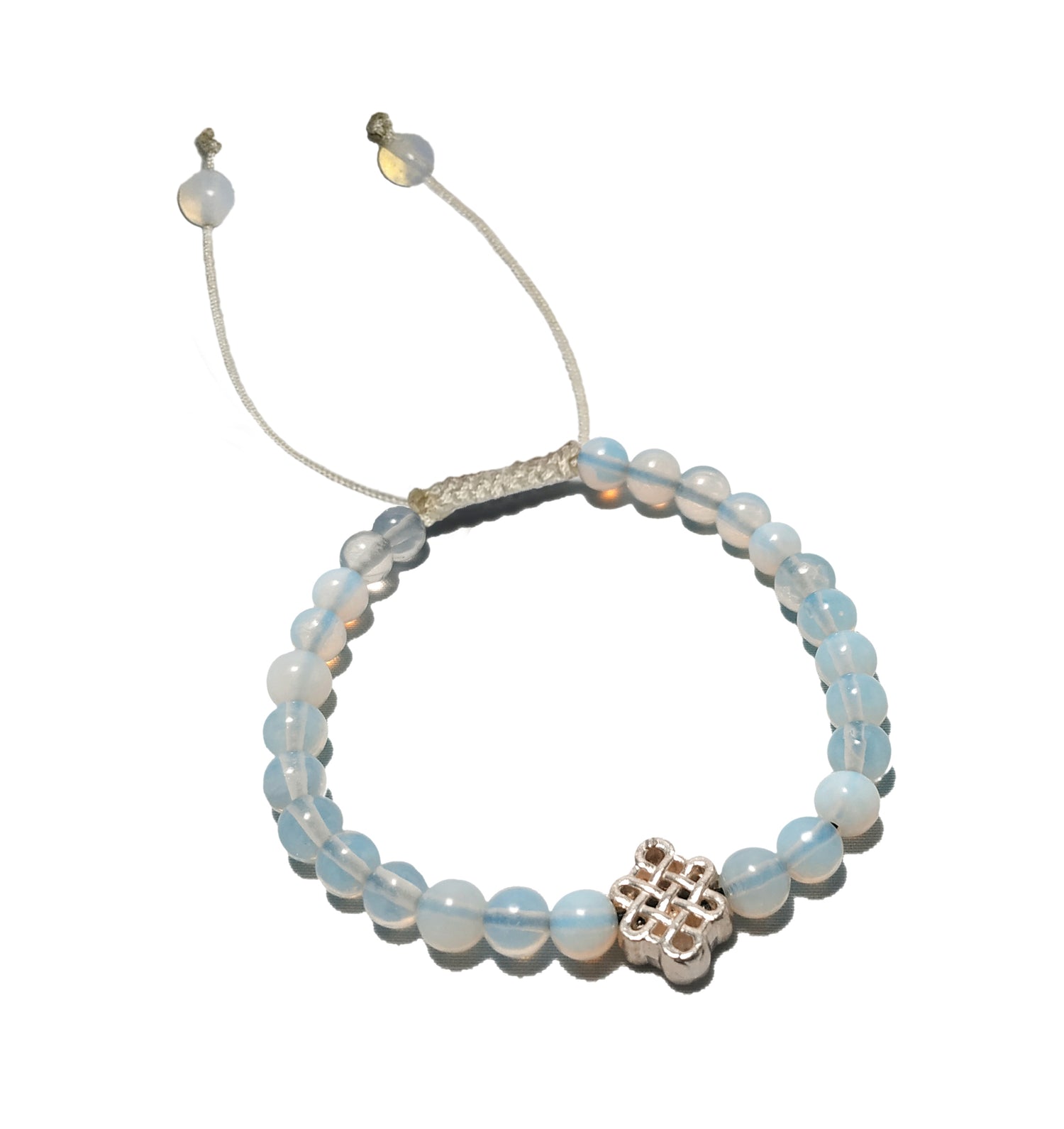 Design
This bracelet was designed to help its wearer better navigate life's major transitions.
Moonstone was chosen for its ability to enhance intuition & increase emotional calm in the face of uncertainty.
The silver Endless Knot serves as a reminder that all of our actions have consequences. May it bring you luck & divine guidance.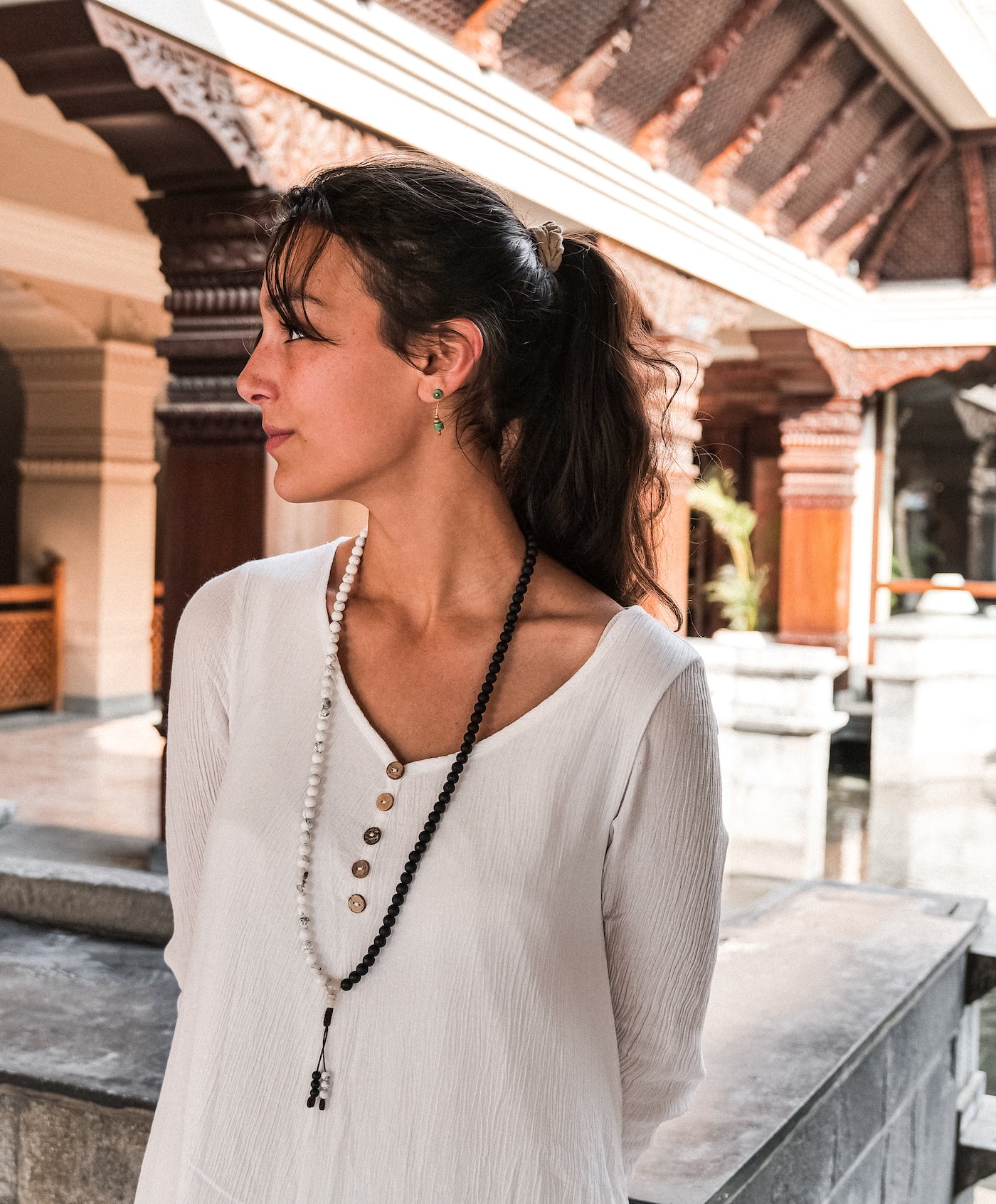 Clarity & Insight
This bracelet is for anyone:
struggling with a decision.
searching for the right path forward.
who might be floating down the wrong river & in need of a change.
*Because we all deserve to be on a path of light & love.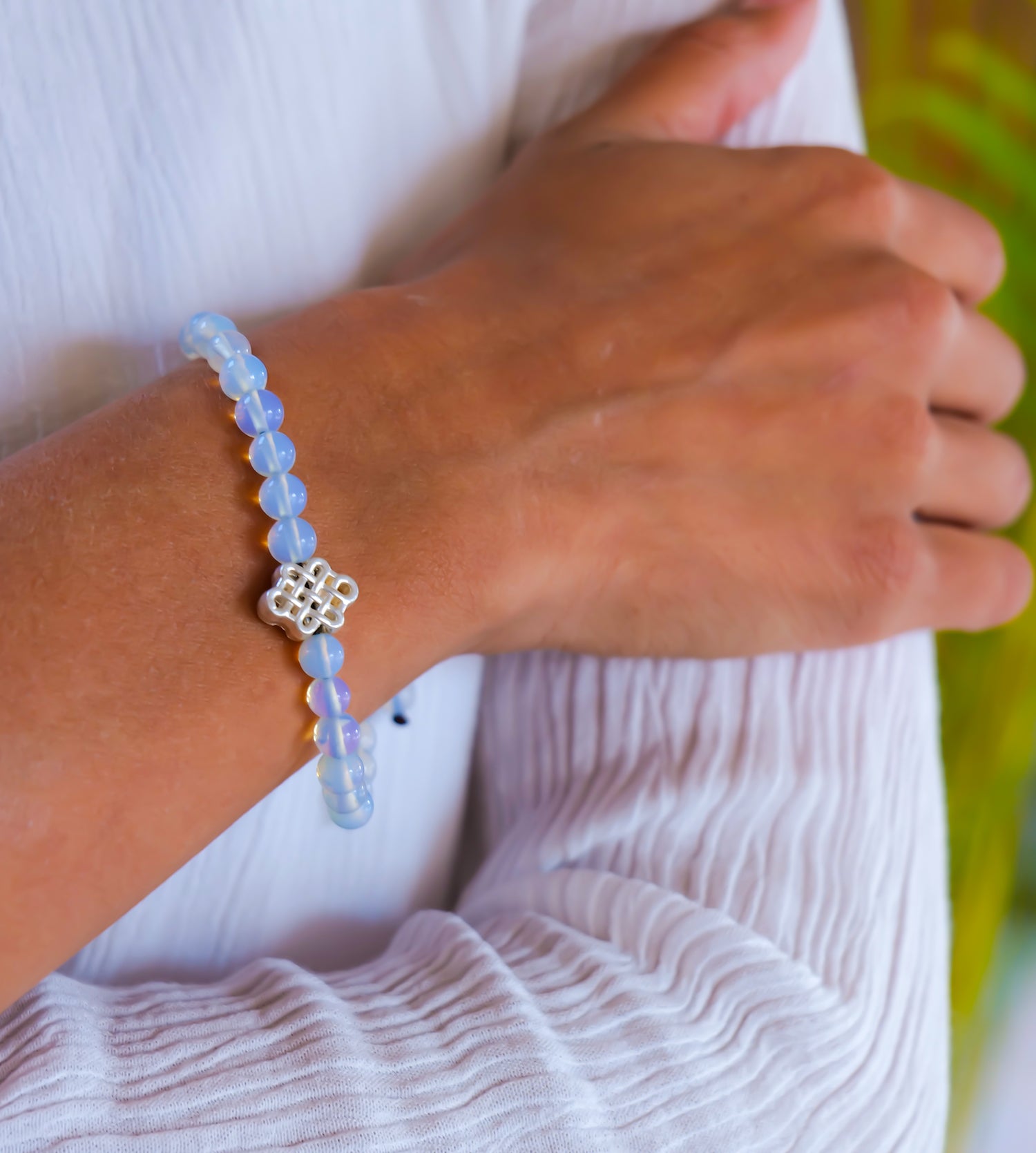 Handmade
Crafted with immense care and skill, every bracelet is the labor of love from a group of extraordinary entrepreneurial women, hailing from the historic Boudanath Stupa & temple complex in the heart of Kathmandu.
Only the most captivating moonstone beads were handpicked to adorn this bracelet.
This "Endless Knot" silver bead was specifically commissioned for this bracelet.
Together, the moonstone & silver knot come together to create a truly exceptional spiritual aid.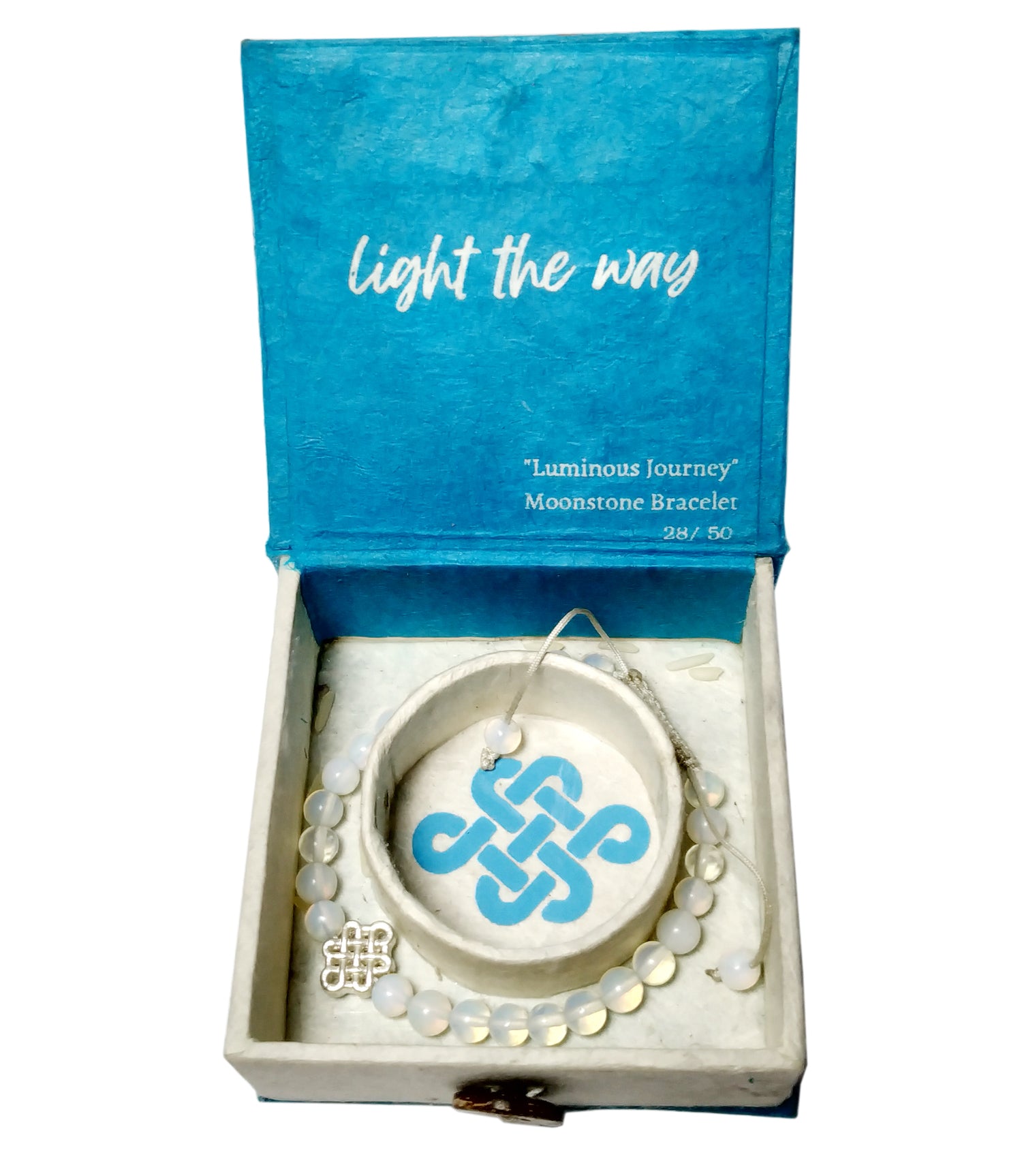 Ephemeral
Only 50 pieces have been crafted and blessed. Each bracelet is distinguished by its own unique number found on our custom handmade lokta box that cradles this one of a kind wearable aid.
"Every morning, we are born again. What we do today matters most."
-Buddha
Blessing Process
Luminous Journey Moonstone Bracelet was blessed at the Woechen Thuk-Je Choeling Monastery, by disciples of His Eminence Ven. Drubthob Rinpoche.
Both the Mala and hand crafted lokta paper box were individually blessed using the the purifying & protective mantra "Om Ranchi Ramni Tawa Taya Hum." This mantra is solely used by monks and its true meaning kept a secret. A significant donation is made per ring on your behalf.
"Wear this bracelet with the knowledge that you hold the power to create your own destiny, and let the Moonstone's radiant energy light your way."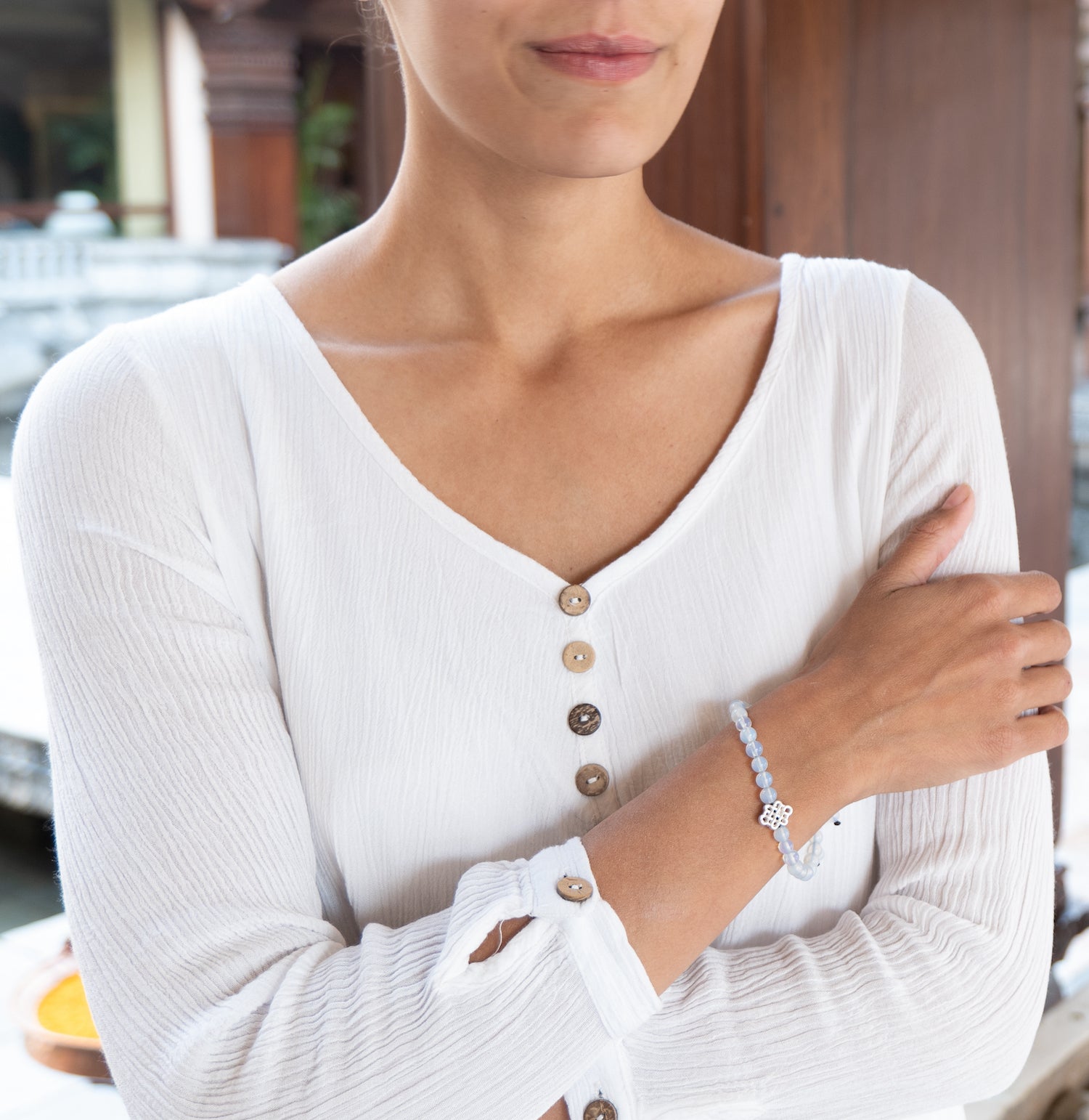 Benefits
of wearing this bracelet
1) Improved mental clarity
2) Increased calm & confidence
3) Intuition Amplification
4) Constant physical reminder to live life in the light.
free gift
We're dedicated to supporting your journey towards alignment with your higher self. Introducing our 7-page eGuide, a valuable resource on Mala meditation, mindfulness, and finding contentment. This comprehensive guide combines ancient and modern mantras to provide you with a wealth of wisdom and practices.
Discover the transformative power of these teachings as you embark on a path of self-discovery and inner peace. Let the knowledge within this guide empower you to live a more fulfilling and harmonious life.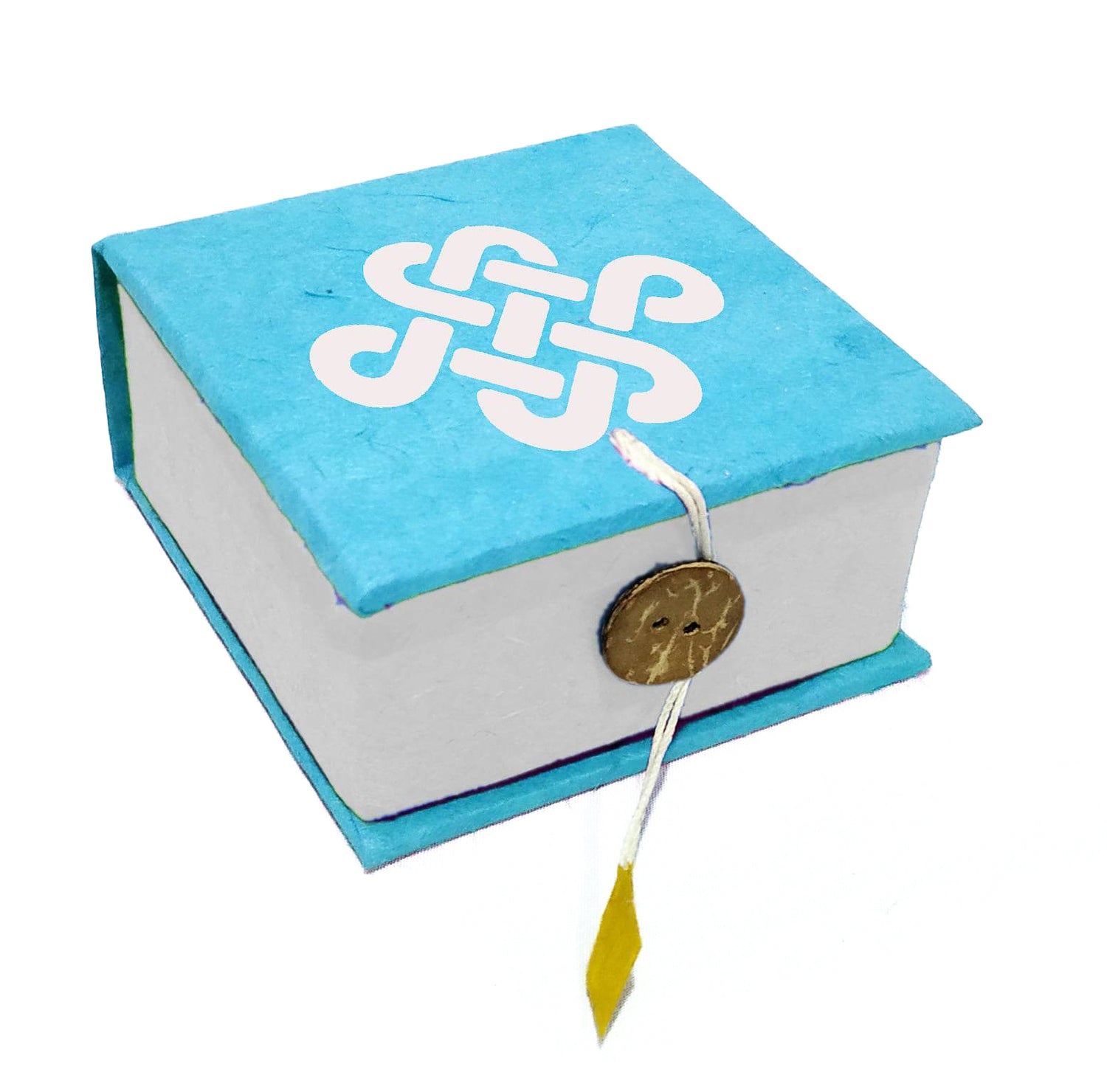 Lokta Box
This unique bracelet comes in a sacred box. Inside, you'll discover 3 scrolls containing mantras, a poem, and additional information about your unique bracelet. The box may contain grains of rice from the blessing process.
Crafted in a Himalayan village, it's made from sustainable Lokta bark, traditionally used to record Buddhist scripture. This 100% natural box features paint derived from berries and glue made from flour.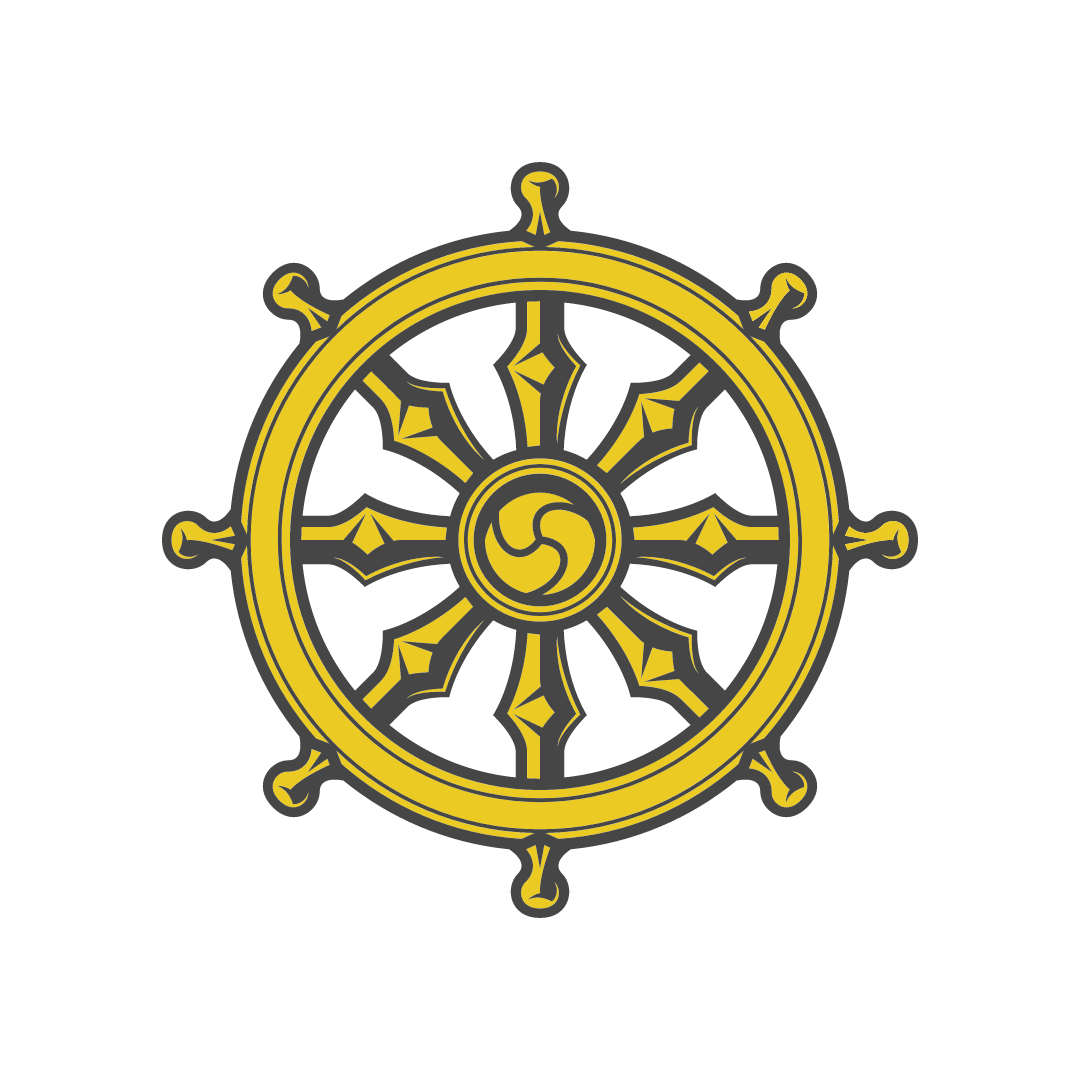 Wheel Of Karma Guarantee
If for any reason you are unsatisfied with your purchase, we are happy to provide an exchange, or a full refund.
Contact us first at,
Sherpas@BackpackBuddha.com
before shipping anything back to us.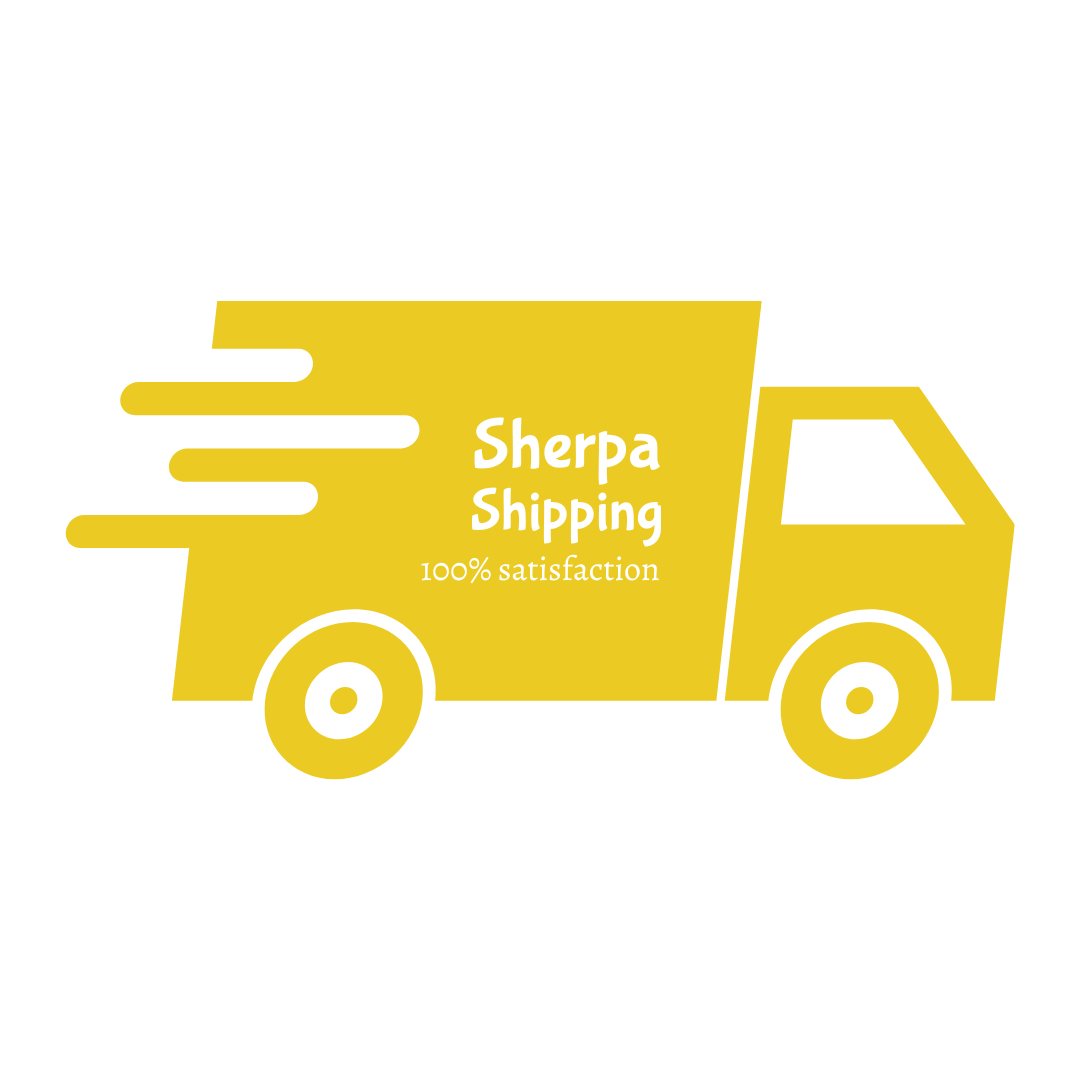 Sherpa Shipping
100,000 + successful deliveries
Arrives in 2 - 4 business days
Sherpa Shipping Guarantee: we promise you will receive your order no matter what!
About Backpack Buddha
We're a small company based in Nepal and the USA. From the very start in 2015, we decided we would base our entire business model on good karma. We are fair-trade, and create original products using eco-friendly materials such as Himalayan hemp, natural stones, wood, and hand made Lokta paper. Our primary goal is to provide meditation tools, self guided journals, and other spiritually conscious products that truly help people.
From all of us at Backpack Buddha in Nepal, Thailand, Guatemala and the USA, we wish you the greatest inner peace, self love, discipline, and happiness on your path.
Thank you for your support!